Taking a lot of time to shower your dog? You'll be surprised how handy this tool is!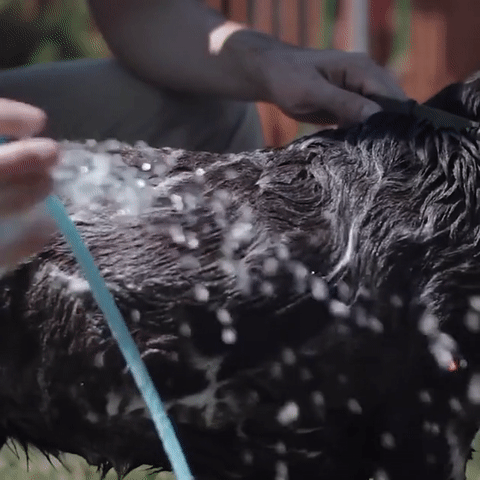 This Grooming Dog Shower makes the shower time for the dog faster and more efficient. It gives your dog a comfortable experience. It greatly reduces the consumption of water and shampoo when compared to standard bathing methods. You can switch it on or down with the rotary knob.
Shower and Massage Functions: It is completed with a super soft silicone brush, allowing your dog to be massaged while showering. Its brush's unique contoured shape is designed to help cleaning dogs of all sizes and types. It makes sure your dog gets a deep-clean shower. 
Easy Access: Comes with 7.5 feet long hose and 2 hose adapters to fit 0.6 inches standard faucet, access to the bathroom, or garden to pick up the water.
Stress-reliever: It removes your dog's hair effectively and reduces stress during bath time for anxious dogs.