Stay Clean from Your Pet's Hair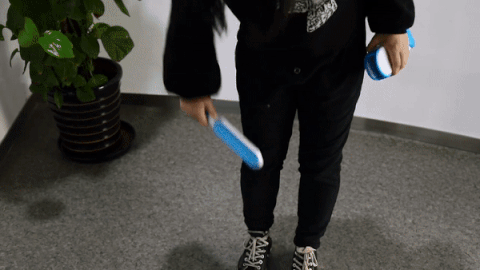 Having a problem with your pet's fur on your sofa, clothes, and other things inside the house? This is what you're looking for!
The Fur Brush Magic will make your life easier on cleaning those furs. The double-sided brush with one swipe function will help you clean all of the furs!
Efficient Pet Fur & Lint Remover: Keeping your furniture and clothes fur-free and lint-free has never been easier with this pet hair remover brush. Swipe it and it will pick up the pet hair with ease from your car seat, carpet, furniture, and clothes without damaging them!
Double-sided Design: This lint brush removes fur and lint twice as fast as a one-sided lint brush. Our fur brush provides double cleaning power to brush away unwanted fur at double the speed of a single-sided lint brush. Cleaning fur has never been so easy with this lint-remover! 

Self-Cleaning: Simply put your brush into the cleaning base and pull it out. This will quickly remove the fur right off the wand, cleaning your brush and making it as good as new.

Reusable & Eco-Friendly: No refills required like the traditional lint rollers! Simply swipe it gently over the surface you want to clean. 
Small brush included only for Complete Set, enables you to clean hard to reach areas easily.